Optimising a PPC campaign for real estate business: A brief guide
Google AdWords for real estate investors
Regardless of the industry you are in, it is difficult to find a spot for your website in the first page of Google. Successful companies in the real estate domain count on Google AdWords real estate leads to tap their online business potential. Occasionally, Google is likely to change their algorithms and the layout, along with the total count of organic results. It is important to rank your website on the first page of the search results. Failure to do so can adversely affect the quality and number of leads obtained.
If you are heading a real estate firm, you must be aware of the competition raging on the digitized platforms. In order to strike the right marketing mix, you need to tweak the SEO strategy tirelessly. Most real estate firms seek professional services from Google AdWords consultant while developing their digital marketing strategies. Considering the tremendous potential that PPC holds for your business, it is time that you think of investing in paid campaigns.
Here, you will come across some effective PPC tips and strategies, that can streamline your real estate business.
Why should you invest in paid search campaigns in a real estate business?
As a marketer, you must be aware of the major challenges that real estate businesses face. Your target users must be physically residing in a particular city, where you sell the properties. If you are just starting your AdWords campaign, make sure to focus on the customers who are willing to reside in that city. Have a look at the real estate Google ad examples to get a better view of how you can run your campaigns successfully. At times, the end user may be planning to relocate due to family or professional purposes. When you reach out to the consultants, they will guide you about how you can tweak the strategies to target these people.
Property owners would not rent: In case a target client owns a home, chances are high that the person will not be a target if you are selling apartment communities. In this situation, you will face a challenge, as the present homeowners should not see the advertisement. Therefore, you need to design your real estate PPC strategies in such a way, that your aspirations become a reality.
Renters are already locked in leases: For a real estate business, a renter is often the ideal candidate. However, most of these renters are already locked in long-term leases. Some of these are of 12 months, while others are dealing with 6-month leases. On a given day, they may not be interested in your offerings.
Affordability and credit scores matter: You must remember that eligibility issue may disqualify some of your targeted customers from buying a home. The customers should have the affordability to buy the products. Many hopeful candidates get disqualified due to poor credit scores.
You may benefit from Google AdWords for real estate investors significantly. This is one of the platforms, that can particularly narrow down upon a specific real estate customer. However, it is important to set up your campaign with professionalism. You may also be interested in Google AdWords for real estate investors. Reach out to the experts to get professional guidance on how you should get along with your campaigns.
After a real estate company makes the payment for a click during the campaign for PPC marketing, anonymous visitors may still land up in your site. These 'suspects' should be approached in such a way, that they provide you with your contact information. Evidently, you would require a CTA to obtain this information. In the process, the suspect turns out to be a prospect for the company. It is important to handle these customers with care, nurturing their interest and guiding them from one step to the subsequent ones. This makes them ready to act.
Now, you will get to know how you can use the best real estate PPC strategies to strengthen your business.
Should you bid on your brand terms?
Real estate players often land up in a dilemma, whether or not they should bid on their brand terms. You should note, that the process of discovery in real estate is quite unique. A critical investment is involved in branded terms in these pursuits. People looking for real estate come to know about the communities and their respective locations in various ways. These include:
Apartment guides
Friends and coworkers
Physical signs
Craigslist and other internet sources
However, adequate information is not always available in these sources. Therefore, you should be using the best real estate keywords to make these searches further targeted. The buyers can obtain more information, when they search for the brands on Google. This is an effective way to generate hot leads.
At the same time, you should be able to capitalize on the searchers down the funnel. In case you are not bidding on the keywords related to your brand name, your business can get affected in two ways:
Your competitors may buy the brand name of your company, which will help them rank higher in the organic listing
The spot will be occupied by real estate aggregator sites, who generally bid on brand terms, using the name along with the keywords related to the state or city for the brand. Unless you use the best real estate keywords related to your brand name, a potential customer will be able to view the local competitors.
You would not want the leads to get stolen by your competitors. Have a consultation with the SEO experts for professional advice.
Here are some guidelines, that will strengthen your PPC campaigns.
Geo-targeting your customers
One of the most effective strategies in PPC is to geotarget your customers. You may come across real estate Google ad examples, where you can view how companies utilize this feature. Under the 'Location' option, you should select People in, or the ones who show interest in the properties. Besides, the people in your targeted locations should also be focused on. Make necessary adjustments in these settings. However, the settings recommended here may help property buyers seeking real estate or a brand in the targeted location. However, the person may be physically located outside the particular zone. Again, when you target the city, you should choose the biggest metro area around this location. In most of the cases, people tend to move within the same suburb or the city. Incorporating this strategy, you can generate Google AdWords real estate leads for your business. https://neilpatel.com/blog/geo-targeting/
Use negative keywords
In your search criteria, you should use negative keywords in such a way, that they prevent the advertisements from showing up. For example, a real estate firm may not be interested in dealing with some specific types of homes or properties. It is recommended to list them as negative keywords. Whenever a person searches using those keywords, it will stop your advertisement from showing up. Therefore, you need to find the best real estate keywords, that can serve your interest.
Preventing keywords for other cities from matching
At times, names of community brands and cities may not turn out to be unique. You should take care so that the keywords for other cities do not match. The key challenge, in this case, is to remove the clicks, that is generated when the customers search by the names of other cities.
In order to eliminate this hassle, you should be using a negative keyword separately for the State as well as the State abbreviations. This will help you get rid of most of these untargeted and duplicate searches. You may also be interested in Google AdWords for real estate investors. The consultants will comprehensively guide you through this process when you reach out to them.
Eliminating low-intent searches
During your PPC campaign, you need to prioritize eliminating low-intent searches. Presently, Google's policies are more liberal, considering their keyword matching. Therefore, digital marketers find it challenging to prevent keyword matching of a wide variety. In this case, you should be using negative keywords in your campaigns. When you seek professional help from a Google AdWords consultant, you will get a list of negative keywords for your niche. Use the keywords carefully, so that you can keep potential traffic visiting your website.
How to use Ad Extensions during PPC campaigns?
You must know, that Google has come up with a formula for Ad Rank. Accordingly, you should use the Ad Extensions in your PPC campaigns. It is recommended that you should leverage at least three extensions for each advertisement.
Location extensions
Local extensions can help potential real estate customers know the following:
The distance between their city to your location, along with your city (mobile)
Street address of the site location (computer)
A 'call' button, that can be clicked on
Clickable access to know the page locations with related details like phone numbers, hours, images, directions and customer ratings
Check out the real estate google ad examples in the site to get a comprehensive idea about how you should be using the extensions.
Sitelink extensions
If you want to strengthen the sitelink extensions in your advertisement, you can choose from several options. For a real estate company, an effective application is to go for floorplan pages. Customers differ in their purchasing behavior significantly. Some of them may want to buy a single-story home or one with four bedrooms. Others may opt between a one-bedroom home and a studio. Incorporating the real estate PPC strategies, you will be able to get a potential buyer directly on the desired page. This makes half the task accomplished and this can drive a high CRT. You can benefit from enhanced quality scores, as a result.
Price extensions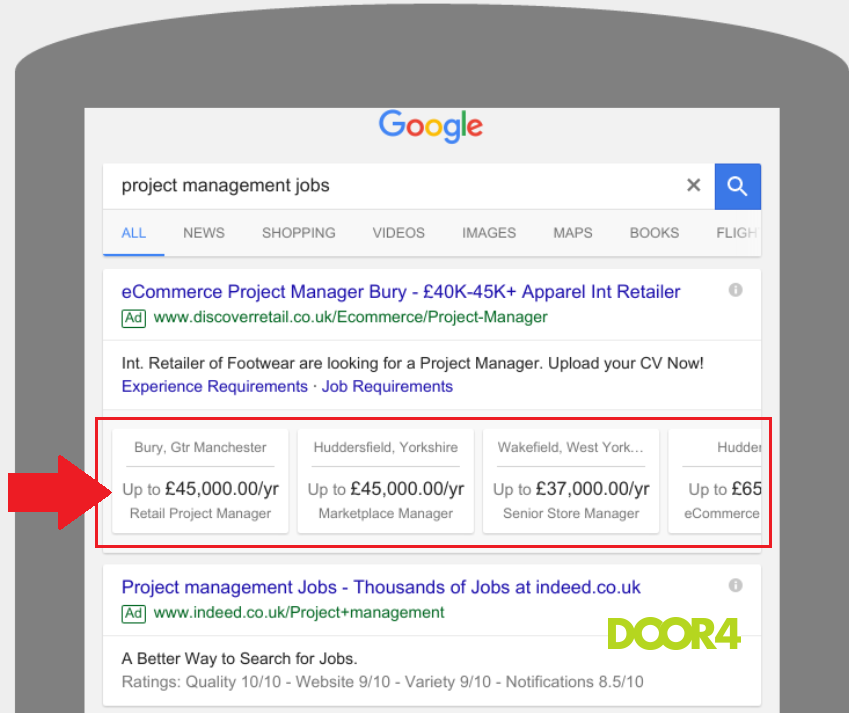 This extension is relatively new and has been expanded to the desktop from mobiles only recently. This serves as a viable alternative, in case you want to reserve the sitelinks for pages like 'About Us' and 'Contact Us'. Besides, price extensions tend to be visually appealing for floorplans. In this case, you may add as many as 8 price cards. When the users click on these cards, they get directed to their preferred floorplan model. It also helps real estate firms in blocking competition, particularly on mobile, as they expand the advertisement's real estate. Ultimately, it helps in generating better Google AdWords real estate leads, that you can benefit from.
Call extensions
Over the years, users have been increasingly using mobile devices for searches. Advertisers, too, have been investing in AdWords consistently. Using the call extensions in the right way makes the strategy effective. You may eventually land up in a gold mine when you can use the extension in the right manner. A call extension refers to a call-only campaign on AdWords. If you are new to PPC campaigns, it is wise to seek professional support from a reputed Google AdWords consultant.
When you use call extensions in your advertisement, check out whether or not the extension day parting is aligned. This makes the business hours aligned with the customers. You would not like to send the leads to a person only to be greeted by voicemails. Strategically implemented, it can help you capitalize on the valuable leads generated online.
https://support.google.com/google-ads/answer/2375499?hl=en
The trial and error method may work out well for your business, particularly when you are in doubt. However, you cannot keep on testing, especially when you face stiff competition in your real estate business. Get professional help from the experts to be successful in your PPC campaign. It is important to narrow down the AdWords campaign for real estate, which will help you to eliminate a large volume of unqualified traffic. In the process, you will be able to generate leads that are more qualified. You must know, that Google AdWords real estate leads are highly targeted. Besides, you have a multiplicity of processes to get this accomplished. The strategies presented above will help you with your campaigns. You can immensely benefit from these ideas when you go ahead with your campaign.
Media Challengers, led by Birendra Kumar, is the foremost SEO and PPC services company, specializing in implementing a comprehensive range of online marketing techniques to enhance business profitability. As a Google certified agency partner, we bring expertise in SEO (Search Engine Optimization) and PPC (Pay-Per-Click) strategies to drive successful digital campaigns.
Do you want an instant result and traffic?
You are at the right place, we are committed for instant result (Call, Query Form, Traffic, view, etc..) generation. If you have any questions please let me know.
Our last month campaign performance
In the ever-evolving landscape of digital marketing, advertisers need to overcome the…