7 Online Dental Marketing Ideas You Cannot Ignore
A dental office has its unique niche and requires unique marketing solutions to reach its target audience. The modern patients and consumers will almost always search online before determining which dental specialist to visit near them. People now realize the presence of online reviews that provide them valuable insights into the treatment and services provided by a dental specialist's office. Since that is where your target audience initiates their search for your services, you should use unique online dental marketing ideas to reach them.
Explore 7 of the more effective marketing strategies that should help you get your service in front of your target audience on different digital platforms.
With over 2.38 billion monthly active users, Facebook is nothing less than a phenomenon of current times. Almost your entire target market is likely to have an account on the social network. There are two dental marketing strategies for you to promote your services on the social media giant.
Demographic Targeting: The social media site has access to an unprecedented amount of demographic targeting capabilities. There are so many ways in which you can reach out to your targeted audience – by language, interests, employment, relationship status, age, and much more. According to studies, it is women who are likely to make 90% of all the dental services decisions. It is women who make decisions regarding this aspect of their family's welfare.
Local Facebook Ads: When it comes to a dental practice, it is highly likely that you want to target your campaigns within a specific area. Facebook Ads allows you to do so by not only targeting a specific region but also the demographic that is of interest to you. It is recommended to use Local Awareness ads to reach this local audience. You can also use map card to provide relevant location information about your practice such as dental office address, business hours, distance to business, and directions link. You can also add a call button within the advertisement to make it easy for people to make an appointment.
2. SEO & Content Conversion
Content conversion and SEO are crucial dental marketing strategies for your practice and it is highly likely that your competition is already using them. Both these strategies have reached a point where they are interrelated and cannot be used separately. SEO and content, together, have an impact on 3 critical online performance metrics:
Traffic
Engagement
Conversion
Organic search is responsible for over half of content consumption. So you cannot ignore the importance of following an integrated approach to both these strategies:
SEO information can help you comprehend how your patients are engaging with your online content. Evaluate this information to learn about the factors that generate interest and drive results.
Assess the interaction of patients with different kinds of content on different online channels.
Make sure to measure the impact of your SEO and conversion strategies.
Google Ads (AdWords) should be the go-to strategy in any dental office marketing plan. It allows you to target your local market and is among the fastest ways to get new patients. Whether you are a well-established dental practice or a new office, this should be on the top of your priority marketing ideas list.
Google Ads can be used to target a radius of the area that you want to cover
You can create ads targeted on 'near me' queries for your services
You can focus on click-to-call ads
The incoming calls can also be tracked using a wide range of services
You can run ad campaigns during both open office hours and after hours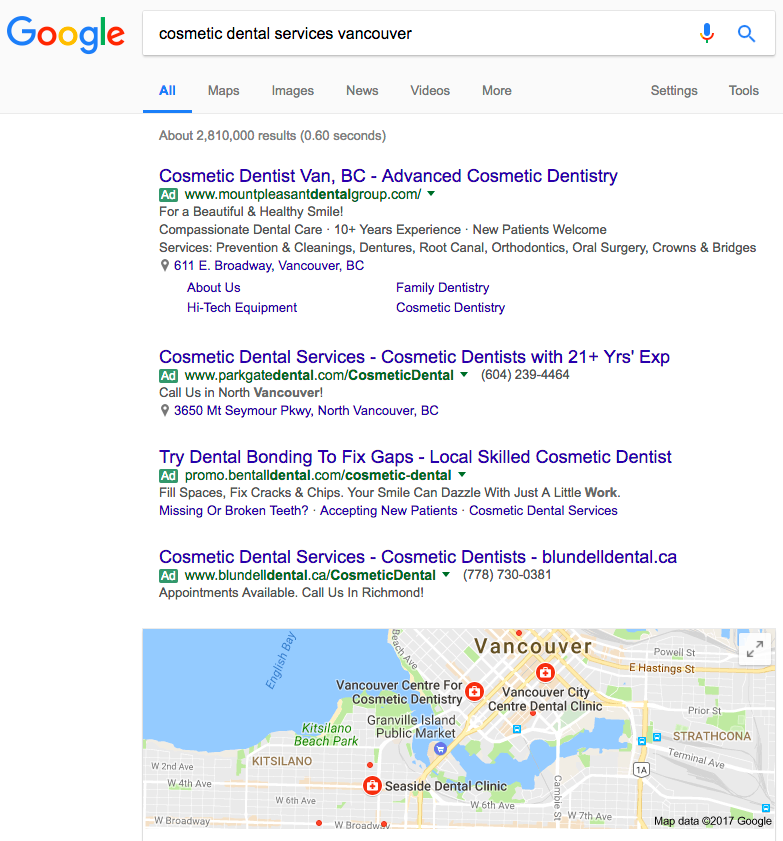 Google Ads income targeting is another powerful tool provided by the platform, helping you reach the right demographics based on their income level. It allows you to select the household income tier or multiple tiers of your targeted audience.
Higher Income Levels: This segment can be targeted with ads for veneers and teeth whitening
Lower Income Levels: This segment can be targeted with ads for maintaining basic dental health
4. Video Marketing
More and more dental marketing companies are integrating video content marketing into their overall marketing strategies for the simple reason that it works. The content can comprise of valuable information for your potential patients about your practice. It can be videos introducing your accomplished and courteous staff and testimonials from patients.
Such videos add an important human element to your content that helps build strong trust. Your videos are going to have a vast reach compared any kind of promotional content. Studies show that video can generate over 12 times more shares compared to text and images combined.
The following stats should give you a good idea of how important video content is to your dental marketing strategies:
A single video of 1-miniute length is equivalent to creating text content of tens of thousands of words
Video is going to be 80% of all online traffic
More than 6 in 10 practices are using video content in their marketing plan
Almost 65% of potential patients visit a practitioner's website after they view their video
5. Mobile Marketing
Google reports that most of the healthcare-related searches are conducted on a mobile device. In fact, almost 1 in 20 searches are related to health-based information. That is a staggering figure considering the volume of searches Google gets. So mobile marketing is one of the most important online dental marketing ideas that you cannot afford to ignore.
The following statistics should be of interest to you:
Almost 70% of time spent on digital media is on mobile devices
Location-based mobile ad spent was over $12 billion in 2016. It is expected to grow by over 2.6 times by the year 2021.
The next time your potential patients are searching for a dental office to treat their toothache or whiten their teeth, you should ensure that your practice appears on their screens.
Besides running mobile ad campaigns, it is recommended to use the following strategies:
Make sure that you have a responsive website that renders effectively on all types of devices.
Make sure that both the desktop and mobile version of your site are verified in Search Console
You should get the help of a digital marketing agency to build effective mobile marketing campaigns.
6. Build an App for Your Practice
Creating an app for your dental practice goes beyond reaching out to new patients. It helps in building long-term relationships with your existing patients as well. It is a proven fact that it is much cheaper and more fruitful to retain an existing customer than to acquire a new one. So one of the best online dental marketing ideas is to build and promote your app.
Having your own app helps build a professional image
An app adds more credibility and trust to your practice
Your patients will see you as a modern practice
Your existing patients (and new ones too) can book appointments instantly and with ease
There will no longer be missed checkups as push notifications can be sent to patients
Provide value and keep bringing them back by providing useful guides
You can also build effective loyalty programmes around your app.
7. Online Reviews
When your potential patients search for your service, they are also going to look at reviews and testimonials from your existing and previous patients. So make sure that they can find reviews about your dental office when they search for your services.
Build your Google My Business Reviews. Create an account on Google My Business and ask your existing patients to leave a review. Make sure to provide them the link in their email or mobile device to make it easy for them. Among other benefits, getting reviews on this platform can also help boost your local SEO.
Get Listed in Yelp: This is another important platform that your target audience will be using to read reviews and find the best dental practice near them. Make sure that you are listed and your patients leave their reviews for your office.
It is highly likely that people are already leaving reviews about your dental office on these online platforms. You should make sure to claim your business in that case. In addition to getting more and more reviews, it is also important that you interact with your patients and address any negative reviews. Engagement can itself contribute in a big way to your search rankings and go a long way in building trust.
Conclusion
So make sure to follow these 7 dental marketing strategies to grow your dental practice. It is important to focus on all these different strategies to achieve overall success. It is highly likely that your competition is already using most of these methods. If you are not relying on them, you are missing out big on brand building and revenues even if you provide the best dental services in your region.
Media Challengers (Birendra kumar) is India's most successful SEO and PPC services company. We implement ALL online marketing techniques to make the business profitable. We are a Google certified agency partner. We have EXPERTISE IN SEO(SEARCH ENGINE OPTIMIZATION) AND PPC(PAY-PER-CLICK).
Do you want an instant result and traffic?
You are at the right place, we are committed for instant result (Call, Query Form, Traffic, view, etc..) generation. If you have any questions please let me know.
Our last month campaign performance
Since searching for a product or service online has become the order…