Google AdWords PPC Landing Page: 15 Best Practices to Follow in 2021
How can I improve my Google AdWords PPC landing page performance?
Landing page design is crucial for PPC marketing. Poor design always leads to missed opportunities and great designs drive certain conversions. But designing a landing page is a challenge even for an experienced Google AdWords expert.
There are best practices for designing landing pages but there is no one-fit-for-all solution for all PPC ads. You can follow the best practices but you would feel need of expert advice on making selection. For example, choosing landing page elements need expertise and also you need professional help in deciding the length of your landing page.
While short length pages look better than their lengthier counterparts but if you are offering a product then the landing page would be lengthier because of inclusion of product features, uses and advantages.
Following are the 15 best practices for creating landing pages
1. Maintain relevancy between landing page and keywords
The best landing page is one that supports the Google ad. It should look like an extension of the ad. It should complete the advertisement. Make sure that the content design and layout match with the targeted keywords in the Google ad.
For example, the landing for a package deal to Florida shouldn't offer reasons for vacationing in Florida. It can be argued that these reasons justify the keyword but a visitor looking for package deals doesn't need reasons to vacation in Florida.
2. Design landing page for the targeted audience and not for general visitors
Think like a visitor for designing a perfect landing page. Ask questions like what your expectations are and then write the expectations the targeted audiences could have from your landing page. But remember that a visitor could have prior experience of your business or a novice. Simply put, the landing page should answer all the queries a visitor could have about the product/service offered in the Google AdWords PPC campaign.
3. Write a compelling headline viewers can't resist from clicking
The headline is the first thing the viewers would notice on your landing page. They will get the first impression about your business from the headline hence it has to be compelling. You can use the targeted keyword in the ad but using a keyword theme that reflects the Google ads is a better option. For a keyword theme, you can review your ad group keywords and create an interesting theme.
The headline should be:
• Straightforward without any clutter
• Relevant to the Google Ads
• Empathizing with the visitors
Just think about why visitors should stay on the landing page while writing the headline.
4. Add imagery to the landing page to connect it with the targeted audience
Imagery can play a crucial role in communicating with the visitors. It will improve the communication standard by highlighting all the aspects of your business. For example, take a product. The product imagery would highlight its uses and benefits in the best possible manner.
Use only detailed and interactive images that attract attention and prompt the visitors to look for more information. Also, use the right size images and optimize the pictures to get better results. But you should avoid flooding the landing page with pictures. While images would boost performance, having many pictures could create confusion and drive the visitors away.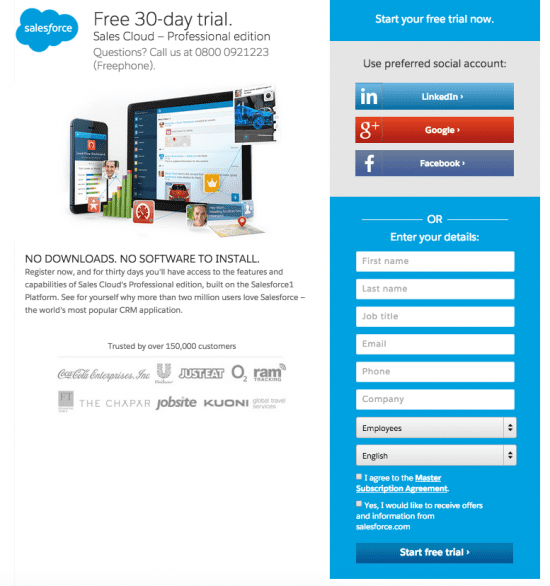 5. Position your landing page elements in a strategic manner to drive conversions
There are many tutorials on landing page elements and their position in a page but there is no one-size-fit-all solution to landing page design. You should choose the elements and determine their positions according to the expectations of the visitors. For example, decide what you want to show first and what should be in the last.
Neil Pate designs a landing page for tutorial
• Headline
• Sub-headline
• Image
• Video
• Brief Copy
• Call to Action
• Trust Signals
• Explanation of the product/service
• Benefits
• Testimonials
• More CTA
6. Use AdWords keywords for writing landing page content
In PPC, you target Internet users using specific keywords. If you refer those keywords in your PPC landing page, it would complete the advertisement. The PPC ad would give a glimpse of the landing page. The journey started from the Google ads would continue throughout the landing page. But it should be a balanced approach instead of keyword stuffing.
7. Establish an emotional connection with visitors using trust signals
The trust signals would help visitors in making a final opinion on the product/service offered. But these signals should match with the landing page theme and keywords. You can use all or few of the following signals.
• Testimonials
• Reviews & Feedback
• Accreditations
• Performance Figures
• Payment Assurance
Again, there is no free size to fit all the situations. You need to keep the behavior of your targeted audience in mind while choosing the signals.
8. Prove your worth
After completing the conversation with visitors, you should finally prove your worth by sharing social media likes/shares/followers, number of users/downloads and reviews. Let the visitors know what others feel or say about you and your product/service.
9. Decide the length of the landing page according to the overall goal
The landing pages can be classified into short and long according to their designs and both have their pros and cons. You should choose a length that fulfills your goal.
Short Landing Page:
• Generates high volumes and leads
• Good for quick actions
• Perfect for free offers
Long Landing Page:
• Produces fewer leads
• Addresses more queries
• Perfect for offering products
10. Create effortless call-to-action plans
Making visitors take the desired action isn't a piece of cake. You have to make sure that the visitors know your intent and it is where you need to be very specific about your call-to-action.
Following are the examples of CTAs
• Colors: Contrasting colors work for CTA buttons. For example, if you have a yellow background, you can choose red color for your CTA button.
• Words: Use power words like "Free", "Sale" and "More" to highlight your CTA.
• Size: You can simply increase the size of CTA to make it clear and visible.
• Prominence: Placing CTA at a prominent place like at the start could improve performance.
• Direction: Directing the visitors to CTA using signs is also a great way to get things done.
• Give limited options: Offer free gifts, samples etc. to attract attention of visitors and compel them to click on CTA.
11. Don't forget optimizing the landing page for mobiles
Whether you make a dedicated landing page or use a responsive design, you must target the mobile market that is expanding at a rapid pace. When you are paying for each visitor, neglecting the mobile market that can give highest ROI would be suicidal.
12. Deliver your landing page at a lightning speed
Do you know that 3 seconds is the maximum time you have to land your marketing page and a delay of 1 second would reduce your conversions by 7%? The data is provided by Kissmetrics.
Do whatever you can to improve your page load speed
• Compress images
• Use only necessary plugins and widgets
• Remove unnecessary DNA lookups
• Review your hosting package
The objective of improving landing page speed is to reach out to your potential customers faster.
13. Erase content that can distract visitors from CTA
Now the landing page is ready to work but you should first look at the page like a customer and ask whether the design and presentation fulfill the objective. If you find anything lime unnecessary info, image or anything distracting your attention from CTA, you should remove it at once.
14. Never act on emotions
Use Google Analytics to track the performance of your landing page and make strategic decisions on the basis of the GA report. You can set a CTA goal like form submission, video presentation and click to call. Setting a goal would make it easy to track performance. For example, you can count clicks on the thank you page and time spent on videos.
Consider the reports:
• The average time the visitor spending on the landing page or viewing video
• The percentage of viewers completing the CTA
• Source of traffic – desktop, tablet, mobile
In addition to these metrics, you can have in-page analytics to understand the behavior of targeted visitors.
15. Test and optimize the landing page for conversions
For success in PPC marketing, you should keep testing and optimizing your landing page according to your findings. It is important even if you are receiving conversions. Make a list of the best practices and ensure that you follow the practices. For testing, you can use A/B testing that would impact of landing page elements on conversions.
Conclusion
A landing page is crucial for PPC marketing because you are paying for every click and if the click doesn't materialize, you will lose an opportunity and investment. If you are currently developing a landing page or improving the design of your landing pages, we can help by reviewing your landing page performance.
You need to review your landing page even soon after creation because there could be design or content related flaws that could drive the conversions away.
Media Challengers (Birendra kumar) is India's most successful SEO and PPC services company. We implement ALL online marketing techniques to make the business profitable. We are a Google certified agency partner. We have EXPERTISE IN SEO(SEARCH ENGINE OPTIMIZATION) AND PPC(PAY-PER-CLICK).
Do you want an instant result and traffic?
You are at the right place, we are committed for instant result (Call, Query Form, Traffic, view, etc..) generation. If you have any questions please let me know.
Our last month campaign performance
Since searching for a product or service online has become the order…