10 Points to Create and Profitably run a Google AdWords Campaign
How To Setup a Google AdWords Campaign?
Launching an AdWords campaign involves excitement, hope, anxiety and fear of losing the entire budget on unwanted and uninvited visitors.
If you're setting your first AdWords campaign, you will feel like going on a roller-coaster ride. There are so many things to consider and do that it is easy to forget an important point.
I've summarized the Google AdWords campaign guide in 10 important steps for your convenience.
Here we go….
First Step: Assess demand
This step is actually about keywords but I changed it to assessing demand to keep things simple. You should know the search volume or the number of searches for the product/service being offered.
Visit Google AdWords Keyword Suggestion Tool and enter the word you believe people are using to search your product/service. The tool would tell how many people are searching the keyword. Also, you'll get similar keywords from Google. You'll get a complete idea about the number of searches for each keyword and cost of each phrase.
Go to advanced options to refine your search according to locations like the US. Set the language to English and keep the devise setting to default, if you aren't searching keywords for mobile. In the default setting, you will get keywords for desktop and laptop searches.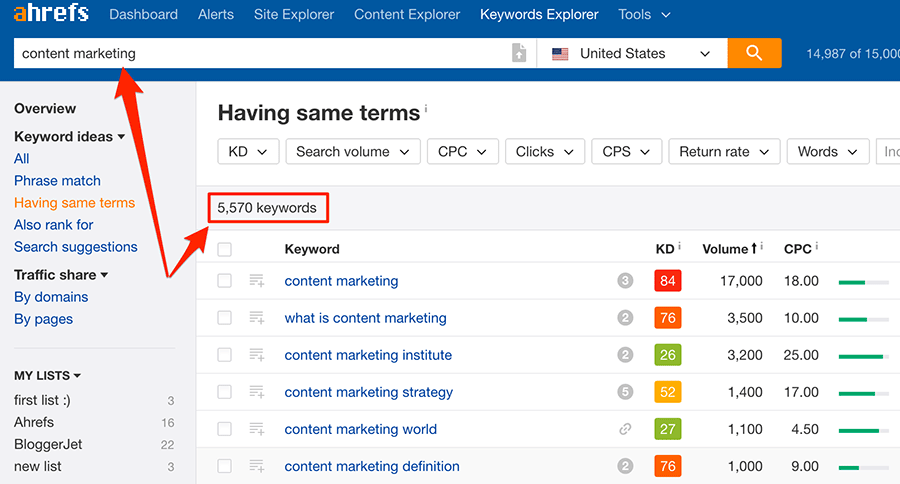 Find the Columns tab and click on it to open the drop-down menu where you will see the following information about keywords.
Competition of keywords
Local monthly searches for keywords
Cost per click of each keyword
I suggest using Phrase match that gives relevant phrases with complete data on number of monthly searches.
Learn to use the keyword tool
Enter the phrases in the Word or Phrase box and enter search. The tool would display a list of keyword ideas along with their AdWords competition, local monthly searches and the approximate CPC. Analyze the info displayed to find profitable keywords.
Best Keyword tools:-
Second Step: Calculate CPC
The most important thing in keyword selection is cost-per-click (CPC). It is the cost you will pay for every click you get on your Google ad. You should bid on the keyword that is profitable.
Do you know how to calculate the profitability of keywords?
The AdWords CPC should be lower than the Max CPC for your business
Max CPC: The formula for calculating Max CPC for a business needs profit per sale; website conversion rate and advertiser's profit margin. Calculate the numbers and use the formula:
Profit per sale x (1-advertiser's profit) x website conversion rate = CPC
Example: Let's take $100 as profit per sale and website conversion rate 2% and the advertiser's profit 20%.
Max CPC: 100 x (1-0.20) x 2% = $1.6
Your Max CPC is calculated at $1.6 and if your AdWords CPC is bigger than the calculated cost-per-click then you would make losses even after getting business. The AdWords CPC has to be lower than your Max CPC.
Third Step: Follow Your Competitors
After locating keywords for targeting, you can head to your AdWords account to set campaigns or test the profitability of those keywords. Your competitors might have set AdWords campaigns using the keywords you want to target. If you can see how the competitor ads are doing, you can save a good amount of time and money lost in testing profitability of keywords. And it isn't illegal to spy on competitors. On the contrary, you can use tools like KeywordSpy that can provide you complete data on the AdWords history of your competitors.
KeywordSpy: Enter the domain of your competitor in the tool and click on PPC keywords to find the phrases the competitor is bidding on. The tool will open the keywords with important data like date of starting in a drop down menu. You can see which keywords are in use and which paused.
Click on the Ads tab to review the AdWords ads. The tool will open all AdWords ads before your eyes and also give you data like when the ads were last tested and whether they are profitable.
The AdWords data of competitor would provide you keywords that work. You can directly import those keywords from the spy tool to your AdWords account to include them in your ad campaigns.
Fourth Step: Prepare USP
It is your unique selling proposition that will make your Google ads stand out from the crowd. Think about the questions that your visitors would have while viewing your ad and try answering those queries in your ads. You need a detailed tutorial for making a USP. To cut a long story short, you can study the ads of your competitors to get an idea of what works for your business.
Fifth Step: Make An Offer
Make your offer as irresistible as possible to hit the right chord and make sales. It is easy, if you keep the fears of your customers in mind. For example, you can offer a money back guarantee to allay the fear of being ripped off by online frauds. Try adding value to your Google ads by keeping the expectations of your customers in mind.
Sixth Step: Create Advertisements
You have everything needed for making the ads and you need arranging the data in an interesting manner in the form of an ad. Here's the technical structure of a Google ad.
Headline1 (30 characters)
Headline2 (30 characters)
Headline3 (30 characters)
Description Line 1 (90 characters)
Description Line 1 (90 characters)
Display URL
It is headline that will attract eyeballs hence it has to be attractive. You can include a keyword in the heading and make it bold. The description lines could carry supporting data like social signals but the description must match with the heading. In display URL, you can use a "power word" relevant to your business instead of the website address.
Quality ad would attract potential users while keeping the unqualified visitors away. It will boost your click-through-rate (CTR) that will in turn improve the overall quality score (QS) of your ads. The high quality score will reduce your CPC in the long run.
Seventh Step: Create Landing Page
A curious visitor clicks on your ad and lands on the homepage of your website. Should you use homepage for marketing and promotion? No, you shouldn't. There has to be a dedicated landing page for each Google ad. The Google ads are used for specific objectives but homepage is for the entire site. Never spoil an opportunity to convert a potential visitor into a customer by landing him on your homepage.
Eighth Sep: Set Conversion Tracking
Your AdWords campaigns are ready to hit the market and you start the ads after starting conversion tracking to determine the performance of ads. It is important especially when you are running an ecommerce site.
Visit Google AdWords conversion tracking in your AdWords account and follow the steps. The tool would guide you on how to start keyword tracking and it will track each customer coming from Google ads to determine profitability of the ads.
The conversion tracking would tell which keywords are performing and should be continued and which should be paused.
Ninth Step: AdWords Setting
It's time to click on the green New Campaign button and run your ads. But there are a few default settings to consider before allowing Google to start running your ads.
Search v/s Display
Irrespective of the default setting, you should choose Search Network because Display Network requires different settings.
Device Bids
It is for businesses that target mobile devices. If you aren't showing your ads on mobile then you should disable the keywords in the mobile section.
Visit Devices tab in Settings and open the tab "Bid adj". It has yellow box where you can select Decrease By 100% to disable the keywords from being featured on mobiles. When you want to target mobile traffic, you can again visit the Device Bids section and enable the keywords for mobiles.
Keyword Match Types
Google provides more keyword options to boost the performance of keywords. You have Broad, Phrase and Exact matches for your keywords.
Broad match gives a wide range of keywords matching with your targeted keywords
Phrase match gives selected keywords
Exact match keeps only targeted keywords
My suggestion is that you opt for Phrase match that gives the advantage of both the Phrase and Exact keywords.
Negative Keywords
These are the keywords that match with your targeted phrases but in reality they are irrelevant. For example, if you are targeting takeaway food then it won't be right to include restaurant food in the keyword.
Add negative keywords in setting to prevent Google from showing your ads on irrelevant keywords. You can add as many negative keywords as you need.
Tenth Step: Optimization
Congratulations! Your AdWords campaigns are set and ready to hit with a click. Since you have made all the necessary settings, you can rest assured that your ads would generate profit. The final thing is optimization. You need to optimize your ads to keep making a profit.
Keep an eye on the keywords to prevent non-performing keywords from eating out your AdWords budget.
Look for ways to improve your CTR so that the quality score increases and you get low CPC that saves you money in the long run. For example, you can test the ads to check their performance.
The final thing to optimize in Google ads is landing page. You can have a separate tutorial on landing page optimization.
Now you are ready to make your AdWords live for action and start counting clicks. When everything is at place, you can expect a high return in a short time.
Conclusion
It is easy to manage Google AdWords by following the technical steps but if you go into detail, you will find that a beginner would need tutorial for every step. A Google certified expert can do a better job. He will increase your profit from AdWords while keeping things simple and affordable.
Media Challengers (Birendra kumar) is India's most successful SEO and PPC services company. We implement ALL online marketing techniques to make the business profitable. We are a Google certified agency partner. We have EXPERTISE IN SEO(SEARCH ENGINE OPTIMIZATION) AND PPC(PAY-PER-CLICK).
Do you want an instant result and traffic?
You are at the right place, we are committed for instant result (Call, Query Form, Traffic, view, etc..) generation. If you have any questions please let me know.
Our last month campaign performance
Since searching for a product or service online has become the order…